#TwitterVoices Design Collaboration

March/April 2021 & October 2021

Never thought I would be commissioned by Twitter to create art & design work!

Thank you to #TwitterVoices for sending me this beautiful swag box! In March and October 2021 I was so honored when Twitter reached out to me asking for custom-designed artwork for the #TwitterVoices Disability community event! I was able to use my love for digital collage to create vibrant gritty textures for my disabled comrades for a virtual evening of dinner conversation and connection!

Thanks for trusting my ADHD artistic eye and vision with this! This texture was a true reflection of how my brain is wired for all things colorful, bold, and multi-dimensional!
In addition to my textures being used for the digital invites and slides for the virtual event, each guest was sent an official #TwitterVoices swag box infused with my texture and twitter goodies that include our Twitter handles!

Image descriptions:
Various digital slides from the official #TwitterVoices Disability Community event.
Blue Twitter icon against an intricate abstract background. Digital texture with hues of blues, pinks, and yellows, meshed with gritty texture overlays, brush strokes, and topographic-like work. The digital texture is wrapped around the box. The box includes a Tumbler, a fuzzy fleece blanket, and coffee grains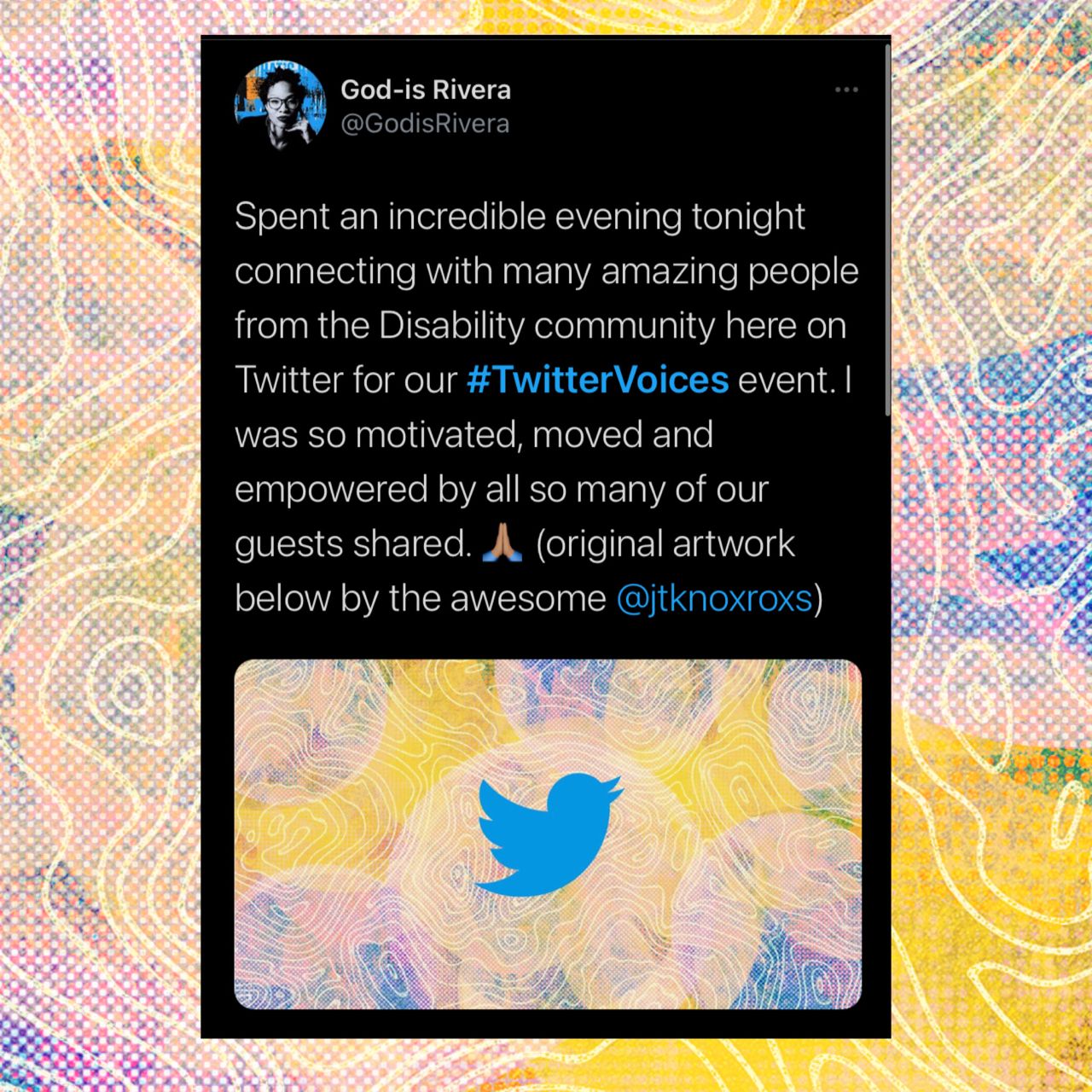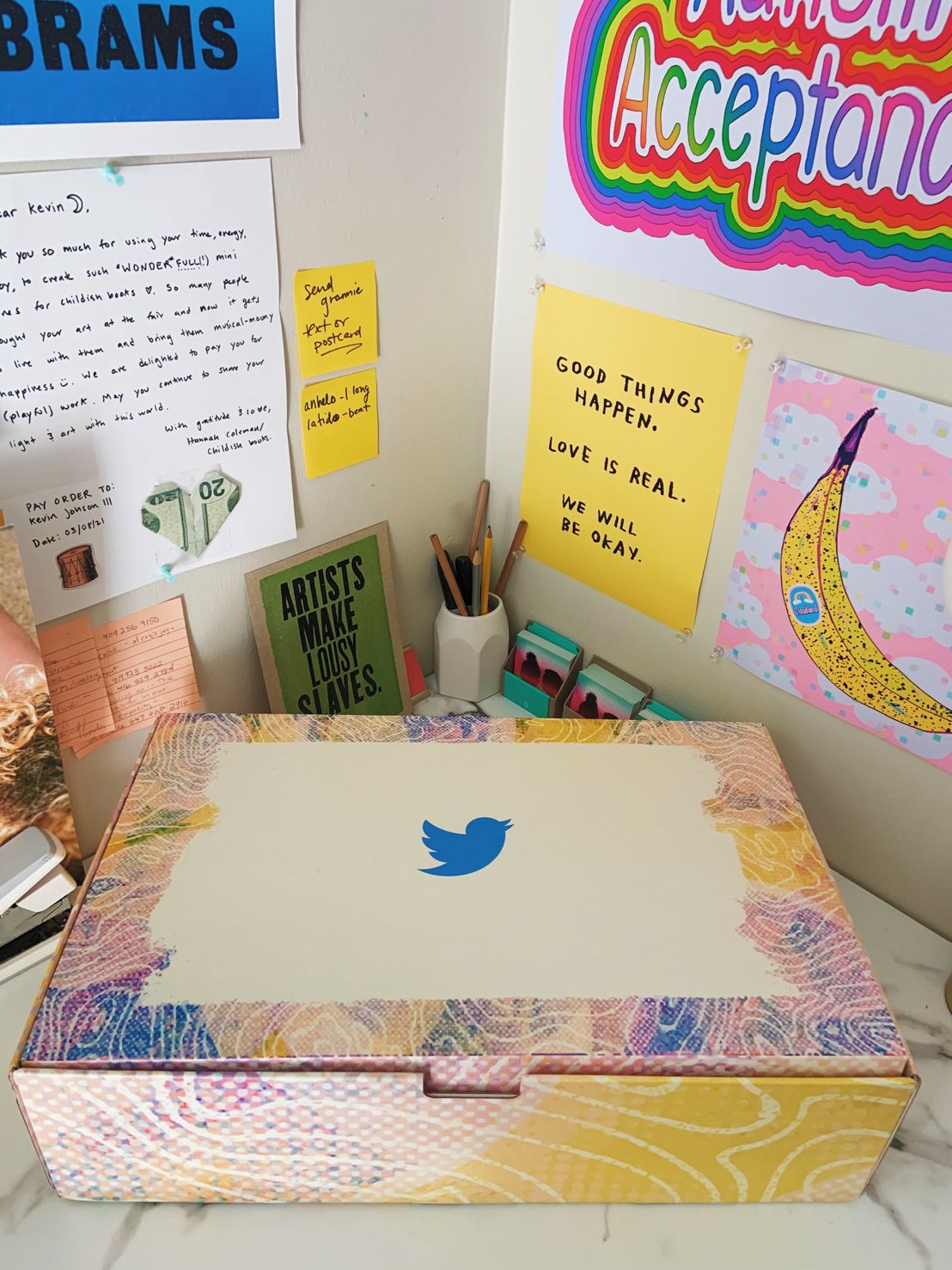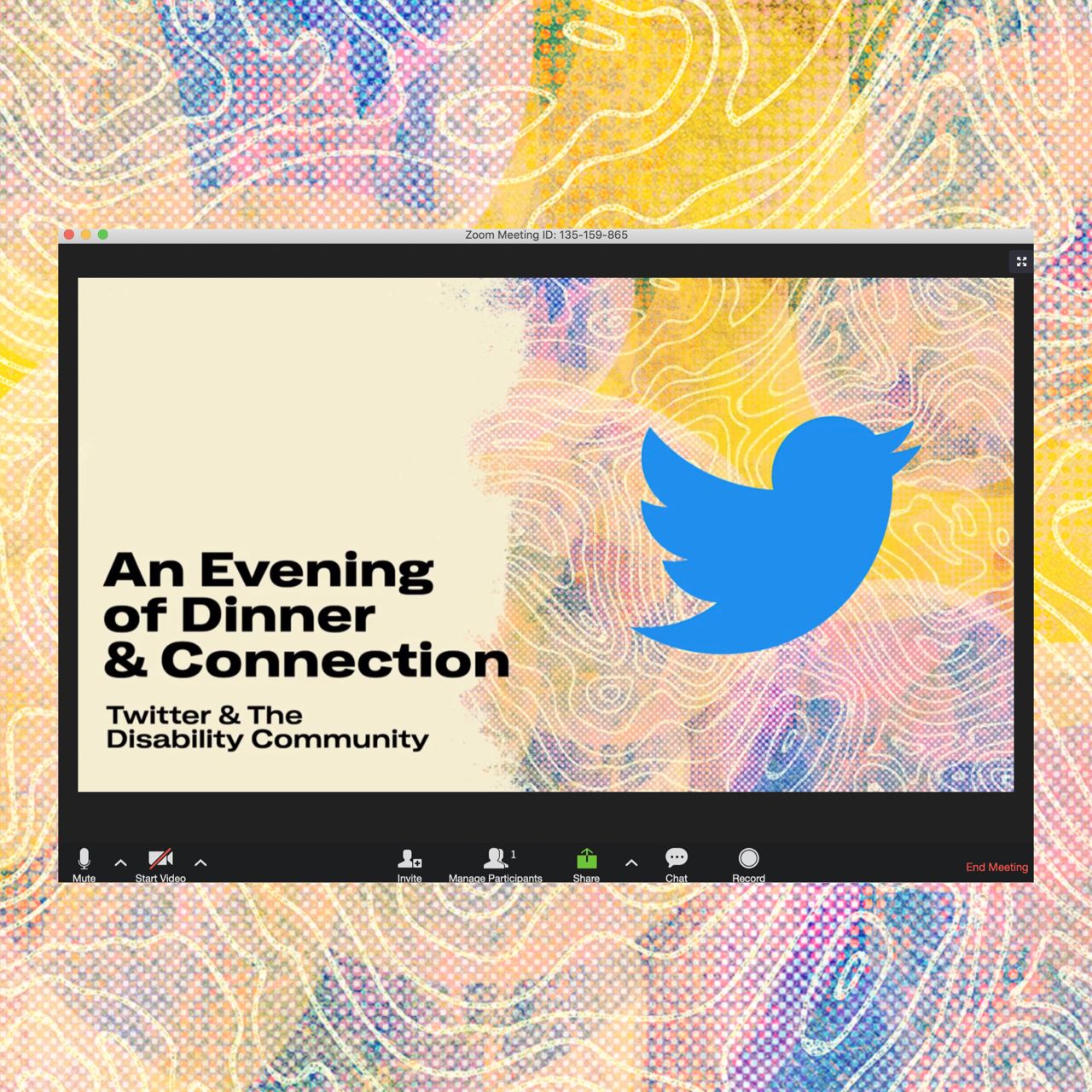 Once again I was honored to be commissioned to create artwork for the
@Twitter
#TwitterAble
Community! This artwork was created to amplify National Disability Employment Month in the US and World Mental Health Day on Oct 10!
To see my work once again adorn the swag box along with a postcard description is indescribable! Very cool to also be in creative company with some of my fav disabled artists,
@ananyapaints
and
@abistevens_art
were also commissioned to create artwork amplifying the global Twitter disability community!
So honored to be along side them in this!
A little bit about the artwork for this project:

I see this artwork as a patchwork of emotions and behaviors similar to my ADHD and Auto Immune disorder - everyday looks different, with different access needs
The psychedelic curves seen behind the sun represent the intersectionality and fluidity of my fellow disability community. Celebrating disability culture through art is paramount for me, and I believe art is a universal language that can unite us.
The silhouetted brown hands are seen reaching for the sun which represents the hope for brighter days and the desire to hold space for radical joy in a world full of injustices that often stifle that joy.
#UntilWeAllBelong
Colors: I used hues of pink, purple, teal, brown and gold to symbolize the radiance and freedom of the Twitter disability community and how we can uplift each other amidst systems of oppression and ableism.